Great news for you, upcoming game designed for 4 different gold-miner games is here, you can play online with webGL, We will serve you new gold miner of Gold miner game in both mobile gaming market.

Game story of Gamikro: "if it`s about games, we want to play too" , we said long time ago. Now our iphone games gone beyond 5.000.000 downloads. Different people from 178 countries are playing our games. We are aiming more. You can look to GAMES section of all game collections.

Hat BALL
Red Ball was looking for his pink girlfriend from differend planets, aliens kidnapped her and they will pay for this. New abilities ofg ball and new ball forces will be with you in this new platform game.

ice Cream and Snowball
You know that Snowman best made with carrot. Carrot means nose for someone, and means food for someone else. wait a minute. You just say food, they will eat his carrot ! Help to snowman for dropping rabbits down to screen in this game, you will find different new game levels and new game items, drop down the bunnies.

new Red Ball
Someone cut the tree in front of red ball`s house, Red ball must find the truth about trees. A brilliant game made from gamikro team on year 2013. Now you can play with new characters in this game. Choose your gaming platform below and go for end of the game

Cut the Blocks
Bll shaped red alien needs your help desperately. He is lost in our planet and doesn`t know how to go back to his planet without your slices.

Bubble Pop
We created this game in a week. it`s easy and relaxing game for making use of your free time .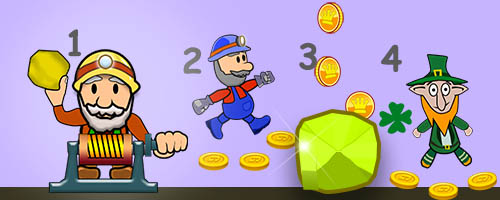 Gold Miner
Gold Miner (gold collecting or gold hunting) games of 4 different golden games can be played by one or two players at the same time
instagram.com/@gamikro
You can see our latest and most popular games below or you can choose any game from our games section in our web site. Look to the complete list for all games page.